7th Sense Fuel-Savers
Green Filter: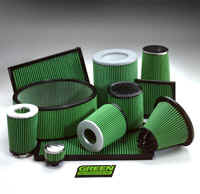 A horsepower increase of 5% is common when swapping your standard air filter with one of these lifetime filters, as your engine can breathe more freely (see video below).
Average economy improvement for Petrol engines: 10%
Average economy improvement for Diesel engines: 15 - 20%
The record economy improvement so far: 20% with a diesel vehicle.
Holden commodores usually get 16% improvement in economy.
The Green Cotton Air Filter company was formed in 1995 and was borne out of the idea of designing, developing, manufacturing and supplying premium cotton air filters to the racing and motor sport industry. The experience and expertise gained from supplying customers like Peugeot, Citroen and Motorsport teams has quickly promoted the company to becoming Europe's largest cotton air filter manufacturer.
Deep pleats in the cotton gauze ensure there is a 10-20% increase in surface area to draw more air into the engine. The cotton gauze is made up of a medium and fine layer to trap and hold dirt, dust and moisture particles as small as 0.50 microns. The gauze is held in place by a strong, fine alloy mesh that allows the filter to perform its job perfectly.
From year 2000 the prestigious EAQF manufacturing standard was awarded to Green Air Filters for consistent, high quality manufacturing standards. The range of filters is expanding all the time and the commitment to providing the customers with the best filtration technology available is always guaranteed.
Every 10,000 to 15,000 the filter needs to be washed and re-oiled using an oiling kit, available here also.
Contact us for a price on a Green Filter for your vehicle